Kisan Mobile Advisory Services (KMAS)
KMAS is the second version of KMS (Kisan Mobile sandhesh) which was very popular farmers of Jabalpur District. It is a IT enabled service aiding instant messaging from KVK to individual farmers for extending Agricultural information through SMS alerts. The service comprises sending Short Message Service alerts on cellular phones collected at KVK to farmers, agri-Entrepreneurs, dealers and extension personnels. Weekly One SMS is issued on various agricultural developments like weather forecast, disease forecast, market information, sowing, pest occurrence. The service is also being used as a medium to send information on important trainings and other programmes to the members of the Farmers Clubs and SHG network under the KVK.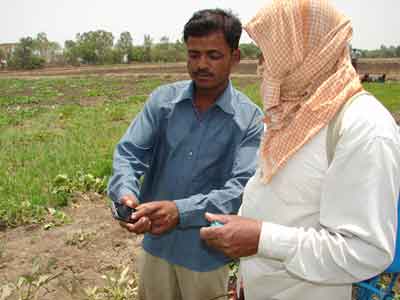 Farmers are getting information on their mobile through KMS
.
* Weekly SMS service to registered farmers and Extension workers
*Informaton regarding Forecast of weather, market, input, pest incidence, sowing, Meeting, training, worshop
**************