Success Stories
I.Green Gold : Berseem Fodder
Shri Ram Lochan Patel (a progressive farmer of Jabalpur district) today is highly successful agri entrepreneur earning about Rs.393 Lakh  in a year. He was inspired to grow the commercial production of fodder berseem with innovative ideas of his elder son Mr. Sandeep Patel whos is educated B.Com (MBA). He take the land on Sikami for the purpose of berseem production from other farmer @Rs.11000/acre for one year.
He gets technical consultancy and advice from KVK (7 KM away from his house). After, consultation and advice of the scientists of KVK, he started this Job during Oct-Nov 2013. He hired 12 acre land as Sikami @Rs.11000/-acre and purchased necessary material like seed, fertilizer, fungicide etc.
Sowing and Management of Crop
Seed was sown @Rs.30 Kg/ha along with fertilizer doses 30:60:30 kg/ha. Seed was sown after the treatment with fungicide, Thiram + Bavistine 2:1 g/Kg, Rhizobium and PSB. He engaged the contractual laboures on the basis of work allot for cutting of fodder. He takes five cuttings in all. Crop was irrigated at an interval of 20 days hence in all 10 irrigation was done in addition to sowing irrigation.
Farm Resources
He has required resources at his farm such as motor pump, sprinkalor set, seed drill and hired tractor as per the need. He has plan to occupy more land under fodder berseem cultivation during coming winter season and for the summer and Kharif season he had planned to grow mize during summer and multicut fodder for the Kharif season.
Fodder Production and Expenditure/returns
He engaged 20 labourers on the basis of work contract for cutting of fodder and loading. The cutting of fodder and yield quantity/acre/cutting are given below;

Cutting

No. of bundal (20 kg)/acre

Quantity (q/ha)

Cost of cultivation (Rs./ha

Gross return (Rs/ha)

Net (Rs./ha)

Ist Cutting

295

147

25725

12320

2nd Cutting

370

185

32375

18975

3rd Cutting

410

205

35875

22475

4th Cutting

375

187

32725

19325

5th Cutting

255

127

32225

18825

TOTAL

851

67000

158925

91920
II. Worm's Wonder
"There is gold in the garbage" says Shri Brijesh Vishwakarma a progressive vermicompost producer of district Jabalpur. History is a success saga of a self made hard working diligent man who has overcome several hurdles in his shortest life.
Among the different agro based activities he tried, the most profitable was vermiculture and compost. Shri Brijesh was interested in vermiculture production as a student youngster. In due course, he started rearing worms in his house in the wooden boxes and had a good number of earth worms by 2004. But, he lost most of his worms and cocoons by the attack of red ant during the month of April-June.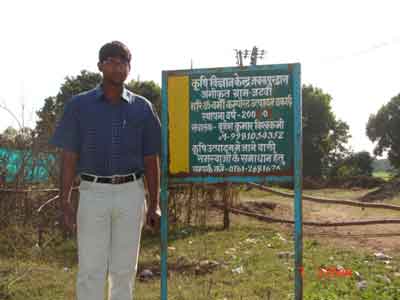 However, his enthusiasm did not diminish. By hard work, he has built up a successful wormery and vermiculture business. Today, Shri. Brijesh is the proprietor of Hariom Vermiculture centre at Jatawan. This centre is well established and producing near about 12 tonnes vermicompost/day. He has 12 regular employees to run the activities of the centre. Vermicompost and worms are sold to the various agencies, farmers of the near by villages of vegetable, fruit and flower cultivators. The dairy owners of the Pariyat area sell the dung/waste of dairy to Hariom vermiculture at a reasonable rate. They provided tractors and trolly on payment basis. They charge Rs.200 for one trolley four wheel including transportation charges from the dairy to centre.
At present, Shri Vishkarma has three big sheds, one store shed along with natural streads of bushes and trees. About 100 ft X 100ft area is open for collection of dung and other activities of centre. Shri Vishkarma sales their centres' produce of vermicompost culture and vegetable of about Rs. 10000-11000/day and purchases 24 trolley of dung from various dairies. The cost of vermicompost per tonne is Rs. 2000/.
            Shri Vishkarma has built up a good rapport with his clients and is a popular person in the block. He has also developed a machine vermicompost sieving which is very popular in the area.

Production & Profit From Vermicompost

Produce

Per day

Production Cost

Return/day (Rs.)

Net Return /day

Vermicompost

12 tonn

12570

24000

11430

Vegetable

40 Kg

90

200

110

TOTAL

11540
            Another important activity of Shri Vishkarma is that he has formed a society for organic farming "a group of vegetable growers". The members of society take vermicompost from the centre and producing good quality various seasonal organic vegetables and sales in the market on higher rate as compared to existing market price. This is the second year of his practice and hope for future to produce pure organic vegetables.
Moreover Vishkarma himself is growing cucurbits on the outer sides of sheds. It is playing dual role in providing sheds to the vermicompost unit and utilize the congenial condition with respect to safer space and nutrition. He is also involved in the practical training and he shares the trainees about experience of success related to vermicompost production and simultaneously its use in vegetable production, organized by KVK, Jabalpur.
Students of agriculture are also participated in the training at the centre. He had given radio talks on vermicompost production; a profitable agri-business. He has planned under the direction of scientist of Agronomy & Agro-forestry to develop a nursery of ornamentals, teak, bamboo, clonal eucalyptus, papaya and other fruits.
In his opinion, the earth worms made him busy in various agro activities. He says that " I am very much fascinate with untiring and unbearing activities of earthworms and provides a way to move freely in the path of successors". He also says "Therefore I worship the worms".
**************